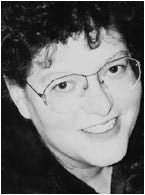 Award-Wining novelist Dee Henderson excels at creating believable, challenging characters. Dee is the author of two series: the Uncommon Heroes series and the O'Malley series of romantic suspense novels. Her Books have won a host of awards, inlcuding the prestigious RITA Award, Bookseller's Best Award, and National Reader's Choice Award. True Honor is a finalist for the 2003 ECPA Gold Medallion Award for Fiction. The Truth Seeker and The Protector were finalists for the 2002 ECPA Gold Medallion Award for Fiction, The Guardian won the 2002 Christy Award, Romance category.
Ad blocker interference detected!
Wikia is a free-to-use site that makes money from advertising. We have a modified experience for viewers using ad blockers

Wikia is not accessible if you've made further modifications. Remove the custom ad blocker rule(s) and the page will load as expected.